https://ipa.quangtri.gov.vn/en/news/news/building-capacity-on-eco-tourism-for-ethnic-minorities-70.html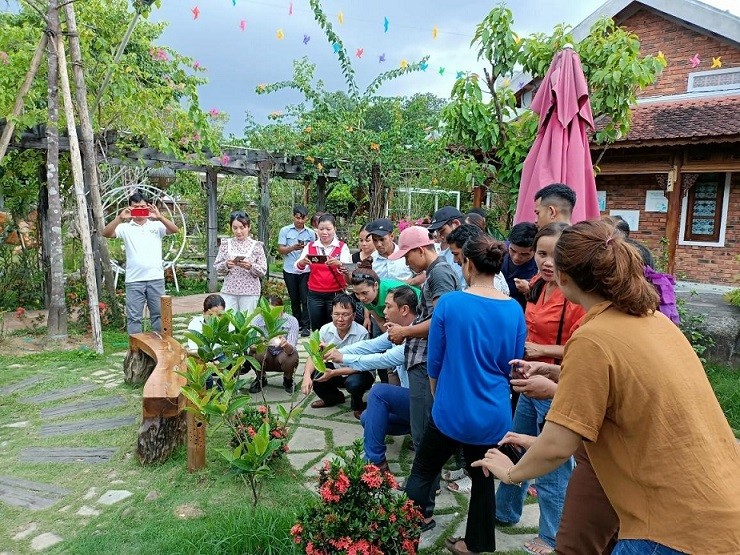 Ethnic minority trainees are practicing skills such as filming and shooting on mobile phones (Photo: Helvetas Vietnam)
Last weekend, on August 7, 2022, Helvetas Vietnam and Ken Travel co-organize the training course on organizing campfires for the tourism community in Huong Phung and Tan Hop communes (Huong Hoa district, Quang Tri province).
Through this training course, 15 ecotourism households in Huong Hoa district have been equipped with essential knowledge and skills to build campfires and organize campfire games for visitors. Campfire has an unique appeal, bringing people together and connecting us with the natural world. However, organizing campfires should follow some principles and requires certain conditions and good organizational skills, otherwise it can become a risk to participants or to the environment, or cause forest fires.
In the course, the participants have been instructed on types of campfires, implementation procedures, safety principles, and how to create good atmosphere through campfire games, etc. They were also given the chance to practice what they have learned under hands-on instruction by a professional trainer.
Ms. Ho Thi Hui (Huong Phung commune, Huong Hoa district, Quang Tri province) shared, "Previously, I only planted coffee, cassava, rice and pick bamboo shoots in the forest to sell, just earned enough to eat. Since doing tourism, I have met many people, I feel delighted and more confident and wear beautiful clothes every day to welcome guests. Through this training course, I have learned a lot. I am planning to set up a performance team to serve tourists here."
With practical training content and hands-on training methodology, Helvetas Vietnam's training courses have been highly appreciated by trainees as well as local authorities. For example, in the training course on 'Culinary Skills', the participants learned how to prepare and decorate food and drink using locally available materials and showing the uniqueness of local culture. In the marketing course, the participants learned how to do online marketing for their ecotourism services by video making with smartphones, content creating, and publishing on online platforms like Facebook, TikTok, etc.
Mr. Ho Van Nhang (Huong Phung commune, Huong Hoa district, Quang Tri province), a trainee who has participated in some training courses by the Project, happily shared: "In the past, my family's income mostly came from rice and coffee planting, and collecting honey, bamboo shoots in the forest. We had to work very hard but still not enough to eat. Since doing tourism, things have changed. After being trained in marketing, I knew how to post on Tiktok, Facebook, and Zalo to promote Chenh Venh tourism [a famous tourist attraction in Huong Hoa district]. My Tiktok account, which has just been created for half a month, has already had more than 700 followers. After some articles about food, I have received up to 200 orders, worth about 10 million VND. Most of the customers like grilled chicken to bring along to the waterfall. Not only local guests but also guests from Hanoi and Saigon also know about my food. I'm now planning to improve the accommodation service in the community houses and make videos on YouTube to promote Chenh Venh tourism and share my experience."
The involvement of professional trainers from tourism companies, associations, and training schools in the training courses has helped ethnic minorities in remote areas learn how to do tourism professionally. After the courses, the participants can immediately apply what they have learned to provide tourists with unique experiences of the natural landscape and culture with higher quality, safer, and eco-friendly services.
This is one of the interventions under Sub-Component 6 within the Project Vietnam's Forest Management and Biodiversity Conservation (VFBC), funded by the USAID, implemented by WWF, Helvetas, and some other international organizations in collaboration with the Forestry Projects Management Board and the Ministry of Agriculture and Rural Development of Vietnam. Helvetas is in charge of sustainable value chain development, ecotourism, and livelihoods improvement for communities in the 6 central provinces.